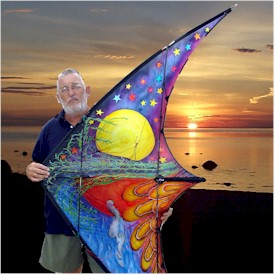 When I retired in 2001, I was looking for something that would fill my free time, especially in the world of art.

I was an art teacher in high school and at that moment all my time was concentrated to teaching. Not enough time for personal projects.

I live in a small village, all we could find in the village was a grocery store and a kite store. I had seen a few kite festivals and this drew me to buy a kite. After 20 minutes of flying my new stunt kite I did a beautiful landing on a fence post and it was the end of my first kite!

I went back to the kite store with the remaining pieces of my kite. There the owner showed me hand painted kites from Robert Trépanier. I met him later and we became friends. He gave me the idea to experiment this particula medium.


After my first test with acrylic paint I was not really satisfied. It was too heavy, too opaque and the color stayed a little sticky. I was looking for transparent colors. So I experimented with many products to get where I am today.

Jacques makes all styles of kites, most of them he makes himself and paints;

sometimes he paints on premade kites, but they are all beautiful with his touch!

They are all special one-of-akind works of art.

At this time we have some fabulous Brazilian styled fighter kites called Pipas from Jacques.
| | |
| --- | --- |
| | P1 |
| P2 | SOLD! |
| P4 | P5 |
---
2m Rokakus!!!
Talk about one of a kind pieces of art!!!
(Just a heads up the names are given by me to help me remember which kite is which-these are not the names from Jacques!)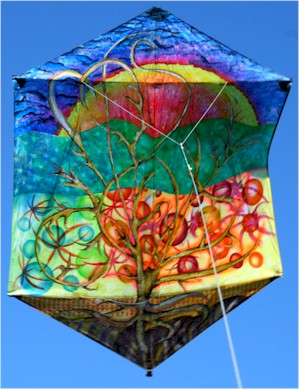 "Seasons"


We also have some new 2m Rokakus made by Jacques as well.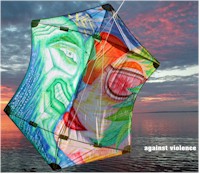 "Against Violence"
These are beautiful!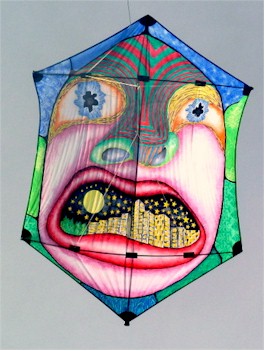 "Night City Mouth"
Framed in Skyshark rods this rok will get you up and flying quickly,
if you dare to fight with it it wil be a great fighting kite,
and it can also soar like a breeze.
These are each 365$ shipped.
Painted diamond!
Jacques' pianted diamond kites are beautiful flyers!
At 5' tall they have a great size and the artwork creates an even bigger presence in the sky!
We have one available called Bi-Face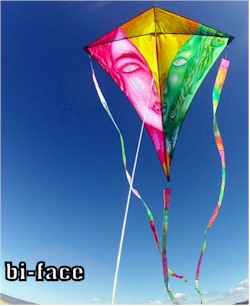 Bi-Face is 310$ shipped to you.
Bird!!!
Jacques bird's are imediately identifiable from their distinctive shape.
These are ~8' tall and almost as wide.
They like lower to medium winds.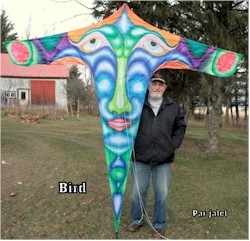 This bird is 455$ shipped to you.
LONG GONE
.