Patrick has flown kites since 1992, flying mostly stunt kites and gradually into more conventional traditional kites.
Patrick joined the Singapore Kite Association in 1992.
In 1993, he was the champion precision stunt kite pilot in a competition held at Marina Bay,
Patrick competed against 8 pilots and won top place, the judge for that event was the late Mr. Shakib Gunn.
Patrick has many years of kiting experience and has since taken part in several regional Kite Festivals as well as in Singapore.
The 2010 OSOW (One Sky One World) event was organized by Patrick and the guest of honour was the then Minister George Yeo.
This event was covered by local TV news.
In 1998, he began building kites and especially into micro and miniature kites made from bamboo and paper or plastic as sail.
Interest in indoor kites in 2008 led Patrick to begin exploring this unique form of windless kite flying. At the same time,
the online kite shop
www.layangman.com
was created in August 2008.
The concept of flying a kite within the tight confines of a living room was birthed in 2009.
After numerous prototyping and trials, the final version of the iFlite was born on 28th May 2011.
No longer made of bamboo, the latest variant of the iFlite is framed in micro-carbon for a more consistent commercial product.
The iFlite II is now available - it is 2.5 times the size of the original iFlite.
iFlite = 20"
iFlite II = 30"wide and are all vented
iPrey
~ 19"
| | |
| --- | --- |
| iFlite original | iFlite vented |
There are a few colors and options available: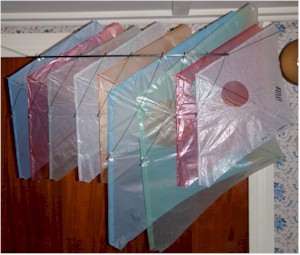 Left to Right:
Standards:

Blue, Pink,

Green,

White,

Orange
iFlite IIs:

White,

bicolor White/Orange
Vented:

Pink
The iFlite is a super sweet indoor/xUL outdoor kite.
Easy to carry, easy to assemble and easy to fly.
Patrick provided a video on assembly of this critter to us!
A tough polyetheylene skin and microcarbon frame, and custom made fittings, allow the kite to drop weight for great flying,
but still be able to be used to teach new flyers on.
Grab some super light spectra line (10-40#), or some people use fly fishing line, larkshead it on and get flying.
In the office, in the city, in the classroom, in the living room, in the back yard, in an indoor competition are all places that the iFlite will shine!
The iFlite is only 32$, and the iFlite II is 65$ shipped in the US (add 2$ for a bicolor skin).
Order three or more and shipping is upgraded to a faster shipping method.
Please contact us for international shipping requests.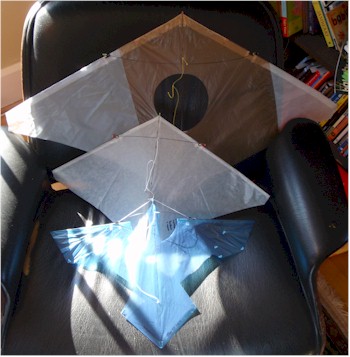 Patrick worked up a new design that has gotten a lot of interest on facebook.
The iPrey!
This kite is much more time intensive to make, and so they will be
limited edition
, only available every once in awhile.
If you are a indoor flying fanatic you will need one!
We have the iPrey in
5
3 colors left at this time, and they are in
very
short numbers.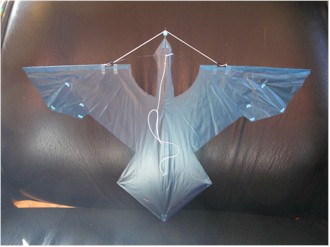 Things to note on the assembly of the iPrey:
The tail spreader is tucked inside one of the wing leading edges when you open it - do not lose it!
The dihedral of the wings can be changed by taking a wrap of the tension line around the tip of the spine above the bead - do it symmetrically!
There are 4 battens, two on each wing, that are on there - be careful rolling this guy up!
When assembling the tension line wraps UNDER the leading edge fitting - see below for a picture.

You might want to order more than one; if your friend tries it out you might not get it back!
Come join the
iFlite group on Facebook
too.