Robert Brasington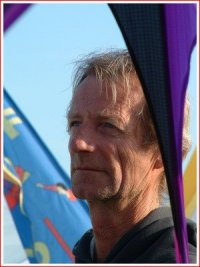 Robert Brasington has been involved in the kite world for quite some time!
I first became aware of his kites at the shop I worked at in Newport, RI. We carried his sport kite line under the name Ground Zero Kites.
At the same time he was making sport kties for the world wide kite community he was also making some fantastic single line creations!
He was known for making intricate cellular pieces with amazing color schemes. Because he had a working background in sport kite design,
most of his single line kites had the same fittings and pieces incorporated into their build (that also makes for very durable single line kites!).
In the not so distant past Robert closed down the sport kite end of his kitebuilding shop and is dedicated to building single line kites, and amazing spinners!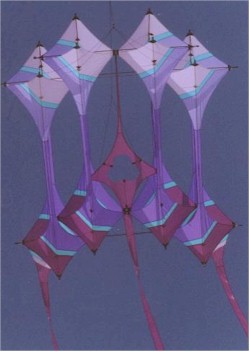 Lets get onto his creations.
Here at Windswept Kites we will be bringing out special offerings of kties from Robert.
You will find one of a kind pieces, prototype designs, alternate color schemes, new designs, old designs and more here.
Here is what we have at this time:
Outback Sunrise Family
Ravenette
Seraph
Squares
Random pieces
We had workshop with Robert in October 2011.
Check it out
---
Cathedral Delta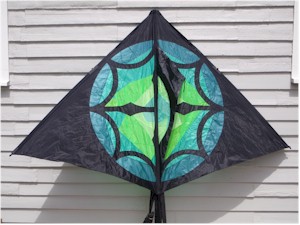 Robert whipped this one up for us on the way out the door headed for his European travels.
It is alawys amazing to see one of his kite in person, but then to see one of his Cathedral deltas is person is even better.
These deltas should be the first things out in the morning and the last ones at night.
They glow with their own intensity, and the designs are all individual and spectacular.
This is the smaller size delta, a bit over 2m wide.
The smaller Cathedral delta is 340$ shipped in the states, there is only one!!!
The Outback Sunrise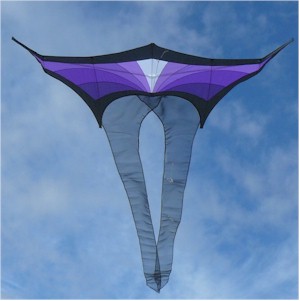 The Aurora Borealis is part of the
Outback Sunrise family
.
It had been planned that the Outback Sunrise was going to be a single piece but when Robert test flew it before shipping it to us he decided that he really liked it.
It is about 6' wide with wings that curve back like the Electric Slim.
The Aurora Borealis (and the Outback Sunrise family) have twin organza tails that flutter beautifully in the breeze.
This kite is 260$ shipped in the US.
Electric Slim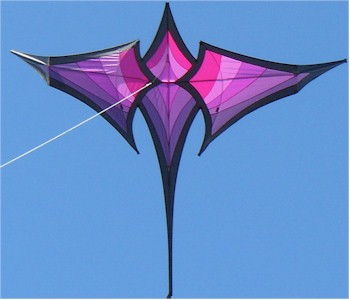 The Electric Slim is one of Robert's newer designs.
Like the Outback Sunrise the wingtips are pointed backwards and that helps keep this kite flying very stable.
Also the matching ripstop tail adds a color punch too!
The Electric Slim is 250$ shipped in the states.
Shintaro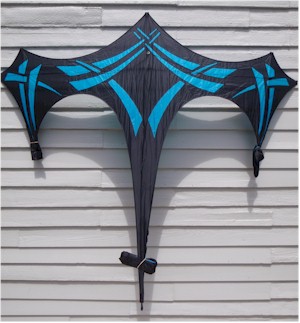 I love this kite!
Like the Electric Slim and the Outback Sunrise the wings point backwards, but this one has 3 matching ripstop tails;
then add in a sliding bridle system for a super stable flying kite that looks amazing.
The Shintaro is just under 2m wide, but has a grand presence!
The Shintaro is 250$ shipped in the states.
SOLD!!!
Dark Angel Seraph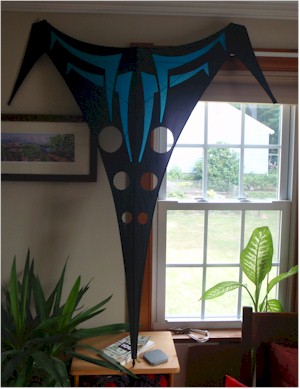 The darker side of Robert's Angels Play.
These low aspect kites are great flyers!
As well as great conversation pieces.
Simple framing gets this kite out of the bag and into the air quickly.
The Seraph is 160$ shipped in the States
Squares
Robert had made some square shaped kites a while back, but these are his new versions.
One of them has the original design he used, and one is a new design.
These are no longer flat squares, these are framed like a diamond kite with a dihedral for optimal flight.
They come with a long fuzzy tail.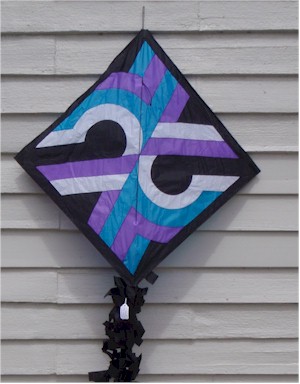 The basic Square motif is 115$ shipped in the states.


Ravenette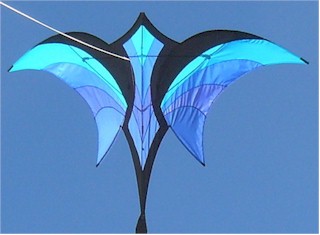 The Ravenette is a neat kite. It does have a very birdlike shape, but to see it soar in the sky just brings it alive even more!
With a 5' wingspan and a 3' spine it is a great size (it does have a ~25' ripstop tail too to finish it).
This kite is a different color scheme than the normal offering.
This Ravenette is 232$ shipped in the US.
---
Random Pieces
| | |
| --- | --- |
| SOLD | SOLD |
| Batty Boy | Baby Star of Lois |
These are random kites that you could put together into a stack, or just fly on their own.
They do also look great hanging on a wall or in the sky. These could be new shapes or new color schemes.
The Random Pieces kites are all 115$ shipped in the US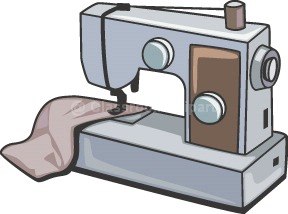 October 2011 Workshop
After the AKA National Convention in Wildwood NJ Robert will came up to the North Shore of Massachusetts to run a weekend of workshops!
This workshop is open to everyone! We had quilters come, period clothing makers come, first time kite builders and experienced kite makers come too.
The classes were one of Robert's
Concentrix kites
and his spinning
Wind Tulips
.