The Kites of Ty Billings
Ty is known in the kite making world as the master of tye-dying his fabric (super-secret methods!).
He dyed skins for himself,
Guildworks
and a couple of other kite makers as well.
Magical colors and patterns would appear that he would then applique in some instances (see
Moth To Moonlight
).
Ty stepped back out of the kiting world a few years ago, and was sorely missed.
When his kites pop up for sale they usually sell very quickly no matter what the condition;
we have seen his kites sell for more that their original retail price!
One of Ty's most well known kites that he made was the
VW Bus Yotzu
, (shhh..there are a pair of these in The Yard Sale!)
This is a handful of brand new test-flown-once kites from Ty.
Two of these are extra special pieces that were part of a
very limited
number of kites.
You have to get these while you can! There are not many of his kites left out there!
There are two sizes of his kites we have right now:
The Punk Rok platform is a 1 meter tall rokkaku (Japanese 6 sided fighting kite) that flys wonderfully in all winds.
These are framed in a solid carbon rods.
The bigger size rokkaku is 1.5m tall. These are excellent fighting roks!
They have a hollow fiberglass tube frame with an extended spine for tipping the competition out of the sky!
Roks
Eclipse Family Crest 1meter Punk Rok
#2 of 5 kites
Custom made for a Gallery art show in Japan
$190
now $150.00
shipped to the U.S.
1.5m Moth to Moonlight Rok
#2 of 5 made
The most beautiful kite we have ever seen by Ty!
$730
now $600.00
shipped to the U.S.
GONE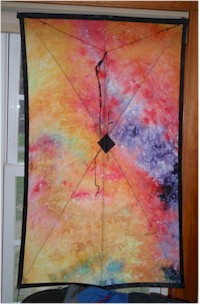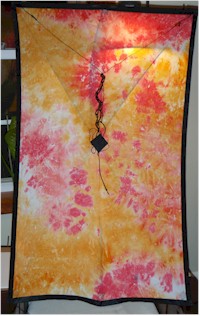 These are Ty's interpretation of the traditional Yotzu kites of Japan.
These can be flown static, or actively flown just like a rokkaku.
4 solid carbon rods, three legged bridle, hand dyed 3/4 oz. skin, and two tassel tails make these kite special.
There
are only two
is only one of these (the hot colored one on the right)!
The Yotzu is 115$ shipped in the US.