Plans
Here is the place where you can come to find plans for some of our favorite kites!
Some of these kites might be familiar to you, while some might be completely new.
If you have a plan you would like to share please let us know so that we can add it up here.
If you are ready to make a kite (or banner/windsock/kite related item) and need supplies please visit
Kite Studio
.
Steve and Tony Ferrel are phenomenal at supplying everything a veteran or new kite maker needs to get going!
If you are looking for a common piece, or a custom made fitting this father and son team will have what you are looking for - or make it!
If you make one of these kites, please share pictures with us! I know that the designers love to see them, as do the rest of us!!!
The Leaf by Christophe Tournay

Enigma by Pete Ross (Popeye)

Ginga by Christoph Tournay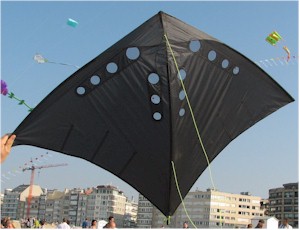 The Quilt Block Kite
by
Rob Pratt